Like a computer. Unlike any computer.

The new iPad combines the power and capability of a computer with the ease of use and versatility you'd never expect from one. And now it's even more versatile, with a larger 10.2‑inch Retina display, support for the full-size Smart Keyboard, and the amazing new capabilities of iPadOS. It's unbelievably fun. And unmistakably iPad.
10.2-inch Retina display
Incredible detail and vivid colours.
Smart Keyboard
Slim. Lightweight.
Augmented reality
Play, shop, and learn.
10-hour battery life
Thanks to the efficiency of the A10 Fusion chip.
Front and back cameras

A built-in FaceTime HD camera and 8MP back camera.
iPadOS
More powerful, fun, and productive.
Apple Pencil
Precision, responsiveness, and natural fluidity.
A10 Fusion chip
Play graphics-intensive games, and experience AR.
Over 1 million apps
Learn. Game. Work. Create. Watch.
Thin, light, and durable design
Made from 100 percent recycled aluminum.
Designed for everyone.
Technology is most powerful when everyone can use it. That's why iPad comes with accessibility features that support vision, hearing, mobility, and learning needs. Use Voice Control to control your iPad with just your voice and Magnifier to make small type easier to read.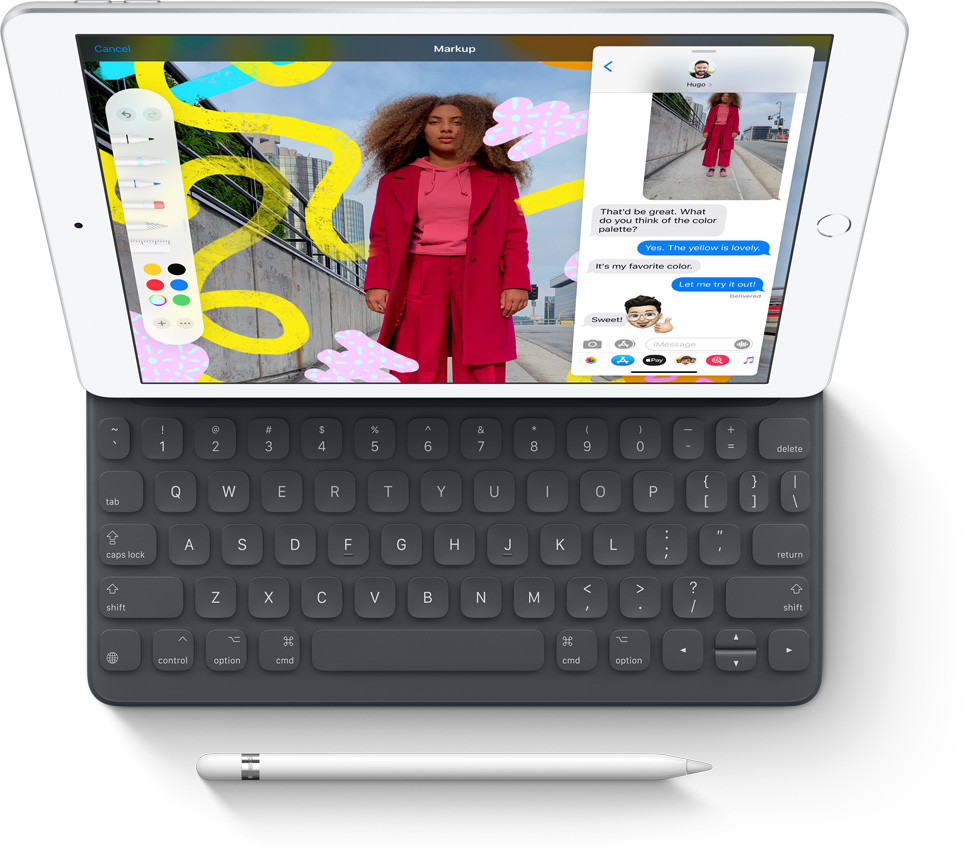 Live your best extra life.
Powerful fusion chip.
It's go time for gaming. The A10 Fusion chip delivers amazing performance, so games are immersive, fluid, and incredibly detailed. And you can pair an Xbox Wireless Controller with Bluetooth, PlayStation DualShock 4 controller, or MFi game controller with your iPad to create the ultimate portable game console.2 You can also try out Apple Arcade, a game subscription service unlike any other, with over 100 insanely fun new games to play.
On the Go.
Take your to-do-list to go.
With a thin and light design and fast Wi‑Fi and Gigabit‑class LTE, iPad is designed to go where your life goes. So you can browse the web, download books, and more, wherever you are. And with up to 10 hours of battery life, you can do it all on a single charge. It does pretty much everything but carry itself.
Privacy built in.
Like every Apple product, iPad was designed with your privacy and security in mind. Sign in with Apple lets you sign in securely to apps and websites with the Apple ID you already have. And Touch ID makes unlocking your iPad and making purchases with Apple Pay simple and secure.
Your home theatre.
Home optional.
Everything you watch on iPad looks and sounds awesome, thanks to the 10.2‑inch Retina display and stereo audio system. With the Apple TV app, you'll have access to popular streaming services, must‑watch shows, and blockbuster movies. And when you buy a new iPad, it includes a year of Apple TV+, a new streaming service featuring original shows and movies across every genre.5 Now all you have to do is remember the popcorn.