The best for the brightest.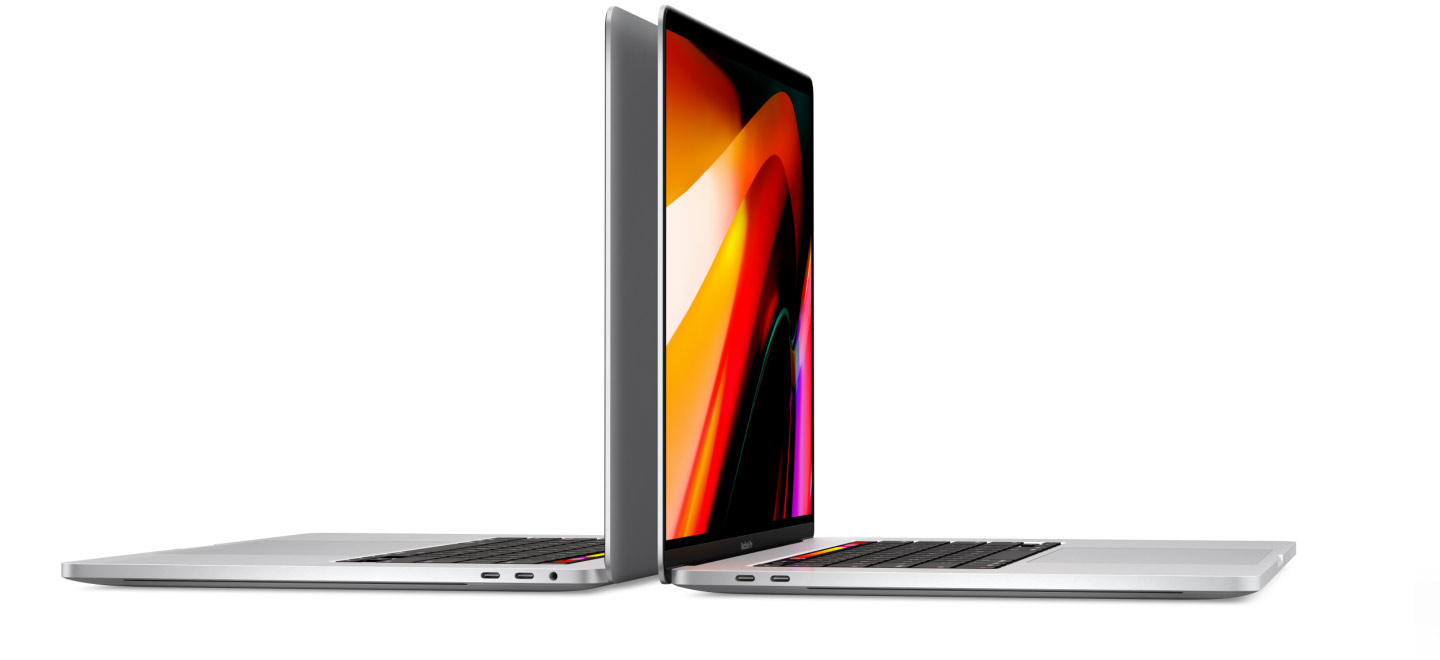 16-inch Retina display for an immersive viewing experience.
Up to 8-core processor to power through intensive workloads.
Up to 8TB SSD storage – the highest capacity in any notebook.

Up to 64GB of memory for editing large files and smooth multitasking.
AMD Radeon Pro 5000M series graphics for fast rendering and seamless playback.
Six-speaker sound system and studio-quality mics for dramatic sound and superclean recordings.
Up to 64GB of DDR4 memory means more efficient multitasking.
Graphics
Bending reality takes bandwidth.
The AMD Radeon Pro 5000M series delivers the most graphics horsepower ever in a MacBook Pro. The 16-inch MacBook Pro base model is over two times faster than the previous-generation base model, for seamless playback and faster rendering of ultra-high-definition video. And with the optional 8GB of GDDR6 VRAM, you'll get up to 80 percent faster performance when executing tasks like color grading in DaVinci Resolve compared with the Radeon Pro Vega 20.
Processor and Memory
Working at the speed of thought.
The 16-inch MacBook Pro brings a whole new class of performance to the notebook. Thanks to a more advanced thermal design, the Intel Core i9 processor with up to 8 cores and 16 threads of processing power sustains higher performance for longer periods of time — and delivers up to 2.1 times the performance of a quad-core MacBook Pro. So whether you're layering dozens of tracks and effects, rendering 3D models, or compiling and testing code, you'll be doing it in no time flat.
The 16-inch MacBook Pro takes workflow efficiency to a new level. The new Magic Keyboard features a refined scissor mechanism with 1 mm travel for a responsive, comfortable, and quiet typing experience. The Touch Bar puts powerful shortcuts front and center, and Touch ID provides fast authentication. A dedicated Escape key allows quick switching between modes and views. And the inverted-T arrow keys enable fluid navigation whether you're flying through lines of code, navigating spreadsheets, or gaming.
Audio
Bigger bass.
Better mic.
MacBook Pro has a big voice. The six-speaker sound system produces room-filling wide stereo sound like you've never heard from a notebook before. Dual force-cancelling woofers dramatically reduce system vibration for a clearer, more natural sound and a half-octave lower range to the bass. And the studio-quality three-mic array rivals professional third-party microphones, for creating superclean podcasts or music recordings on the go.
Storage
Bring your whole studio with you.
The 16-inch MacBook Pro has up to 8TB of SSD storage — the most available in any notebook. So you can take your photo or video libraries with you no matter where you're headed. And with superfast speeds, massive files load in an instant and pro apps launch in a blink.

Use AR to see MacBook Pro in your workspace.
Open this page in Safari on your iPhone or iPad.